You're  FHired!
5 Job Interview Lessons We Can Learn from The Donald
by Gerald George Mannikarote MBBS, MBA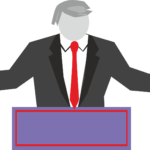 The US Elections were very interesting this year- no matter which way you cut it.  There was a lot of drama, tension, and excitement.  Once the smoke cleared, we all know the outcome.  Donald Trump was elected President of the United States.
Just like most of us when looking for a job, Donald Trump had to sit through many interviews and answer many questions.  There were many things we could learn from Trump's style while he engaged those that asked him questions.  These things could be applied by us when we are, like Trump did, answering the interviewer's questions while looking for a job.  Here are a few lessons we can learn from him.
1. Past experience is important, but what you can deliver gets you the job
Donald Trump is a known business man, an author of a book, and a reality TV star.  He didn't have any past experience in politics.  So he played up on the fact that his strengths were in business.  But more importantly, he was able to convince people about what he would be able to deliver.
In a job interview, your past experience is important. What's more important though is what you will be able to bring to the company and deliver to your manager. Learn to relay what you can deliver.
2.  Don't be afraid to pose questions back to your interviewer
During the race to the election, Donald Trump was posed with many, many questions.  Most people would have thought many of them were very tough questions.  But the Donald was not afraid to ask the interviewer questions of his own.  He was not afraid to challenge the interviewer regarding their facts, or even why they asked the question.
In a job interview, don't be afraid to ask the interviewer questions.  Don't be afraid to challenge their questions.  Don't be afraid to have questions of your own.
3. Your past job history is important, but past salary not so much
The Donald was known for his lavish lifestyle and the fact that he was worth a lot of money.  The question of his earnings and taxes came into question.  Donald Trump effectively shook this question off, letting others know it was not important when it came to the job he was interviewing for.
As many go down the job pipeline, the question of past salary may come up.  This may be a tricky question, but it shouldn't be important.  Your past salary should have nothing to do with the new job- the job that you are interviewing for.  Learn how to effectively navigate the question of past salary.
4. Sales skills matter
The Donald is a consummate salesman.  He understood people's needs and spoke to those needs.  And he did so effectively.
In a job interview, sales skills matter. Before answering questions, you must understand the interviewer's needs.  You must understand what the company needs for the position you are interviewing for.  Speak to those needs.
5. Accept your mistakes, but focus on your strengths
No one can forget some of the mistakes of President-elect Trump, especially the hot mike in the bus.  This was definitely a mistake.  What we can learn from The Donald here is how he accepted the mistake but didn't dwell on it.  He kept the focus on his strength.
In your job history, you may have some issues that may not be the best- a gap in your job history, job changes, lay- offs, etc.  When asked about these, acknowledge them, but don't dwell on them.  Focus on what you are good at and what you have learned from these situations.
These are just 5 lessons we can learn from The Donald when answering job interview questions.  What do you do think about them?  Have you learned anything from the US President-Elect? Do you have any job interview tips you can share with others? Please leave your thoughts in the comments section.  If you feel that others could benefit from these tips, please share this post.  You can also contact me at jerrydmann@dmanntraining.com